To simply put, Learning Outcomes are any measurable skills, abilities, knowledge or values that the student demonstrates as a result of completing a given course or class. Effective learning outcomes can be articulated at several levels, including lesson, course, program, degree, etc. It is completely student-oriented and describes what both the students have to learn and what the instructor will teach. This blog gives a clear picture of what learning outcomes are and what are its constituents.

Advantages of learning outcomes
Even while designing a course, it is crucial to plan how its learning objectives will align with the given curriculum. Such is its importance.
Some of the advantages of Learning outcomes are,
It sets shared expectations between students and instructors
Lets student set learning goals easily
Helps students learn more effectively
Instructors have a clear direction while making assessment decisions
Gives a program level overview of learning across courses and years
The Zero Hour - advent of learning outcomes
Teaching without Learning Outcome is similar to Teaching without Learning. A jarring reality is that most often teachers are unclear about what kind of learning is desired and the criteria against which it could be assessed. This realization was perceived by the National Policy on Education (NPE) in the year 1986, which revised the Programme of Action (PoA), emphasising that the Minimum Levels of Learning (MLLs) should be laid down with learners being assessed frequently to ensure the achievement of NPE goals. It is this understanding that paved way for the advent of Learning Outcomes for different curricular areas. Learning outcomes was definitely a method to relook into the whole process of teaching/learning with a fresh perspective.
What makes a good learning outcome?
A good learning outcome contributes to the learning management system of an institution. It aims in focusing on applying and integrating the knowledge and skills acquired in a particular unit of course program. Hence it is crucial in any part of any institution, which cannot be dodged when developing a course content. It taps the knowledge and skills out of any student. Learning outcomes is a quality assurance given to a chosen framework of study. They are the key element used by programme designers to validate and explain their external bodies, prospective students, and colleagues of what is expected of a successful graduate on a particular course of study. Though some staff may fondly try to forget the learning outcomes, students these days pay greater attention to them, which shows its inevitability.
A good learning outcome should have the following prerequisites:
It should follow S.M.A.R.T. attributes
Use behavioral verbs that are observable and measurable
Leverage Bloom's Taxonomy
Can a learning outcome be buttoned down as good or bad?Read down
Bad learning outcomes
Good learning outcomes

The students will understand the concept government

The students will appreciate cultural practices of the people in India

The students will learn about the Robotics

The students will describe major notions of government

The students will identify and demonstrate  the varied cultural practices of the people in India.

The students will explain the major trends in Robotics
What is the big deal about Learning outcomes? Ways to write them
An appealing learning outcome has three sections. It answers three main questions about the students learning experience.
To do what? (refers to the Bloom's Taxonomy action verbs)
For what? (this is what you will evaluate)
With what? (refers to the content)
Examples of course level outcomes:
English:
Students will be able to read a variety of texts critically and demonstrate it either in writing or speech by analysis, comprehension, analysis, and interpretation of those texts.
Chemistry:
Students will show demonstrated ability to explain the fundamental laws of thermodynamics and apply those laws to chemical reactions.
Business / Finance:
Students will learn to complete a finance-related project with efficiency along with a set of financial reports.
The target is, by the completion of the class, students should be able to Recall… Explain… Interpret… Compare… Differentiate… Implement… Judge… Create the outcomes.
WHAT COMES NEXT?
There is more to Learning Outcomes. It is followed by two more steps—Forming learning activities and Assessments to form a Constructive Alignment.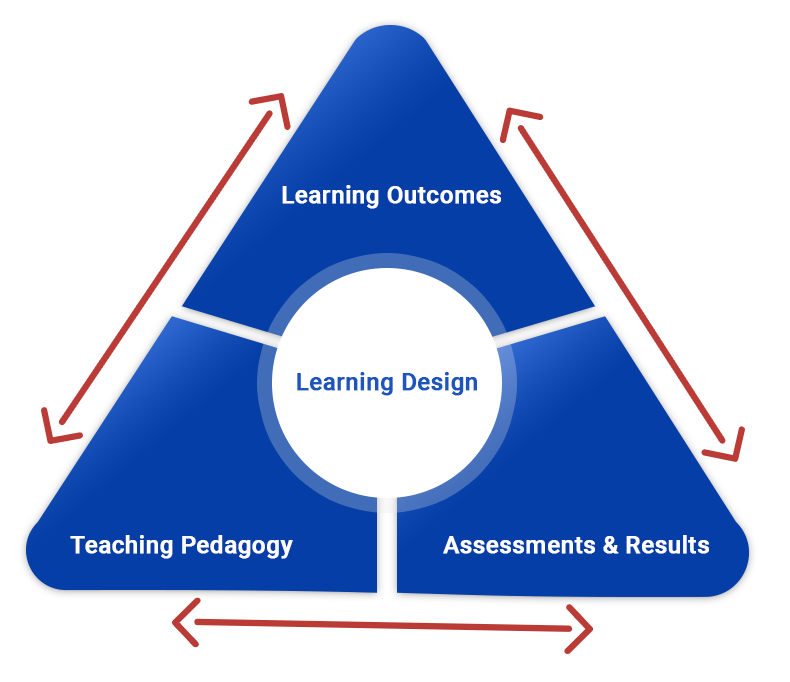 Exclusive teaching approach with different learning activities
The next step is to measure whether students have met those outcomes or not. Pick relevant activities and assignments that will allow students to meet these outcomes. Can they demonstrate it through any carefully drafted exam questions, project, essay, assignment, poster or other presentation?
Based on the above learning outcomes, appropriate writing skills should be developed. For example, if the learning outcome is to test writing skills then the assessment can have a short essay instead of a multiple-choice exam. The learning activities might have to include collaborative working in groups with a mix of peer-led training to improve the weak one.
Assessments/Testing
Assessments are an on-going evaluation process that help students understand and improve learning by measuring the learning outcomes they might have achieved. This helps students have a clear idea of why they are being assessed and what they need to do to get higher grades in their courses.
Accumulating all of these outcomes attainment and calculating them can be hectic and time consuming. This might even result in errors if done manually. Efficient tracking of outcomes can only happen with an outcome based education software.  Implementing outcome based education can guide instructors through the anticipated outcomes, their requirements, and electives. It can thereby provide an execution for situating your course in its appropriate curricular context. With such a software in place, setting up of threshold values and mapping questions for calculating attainment can get easier.